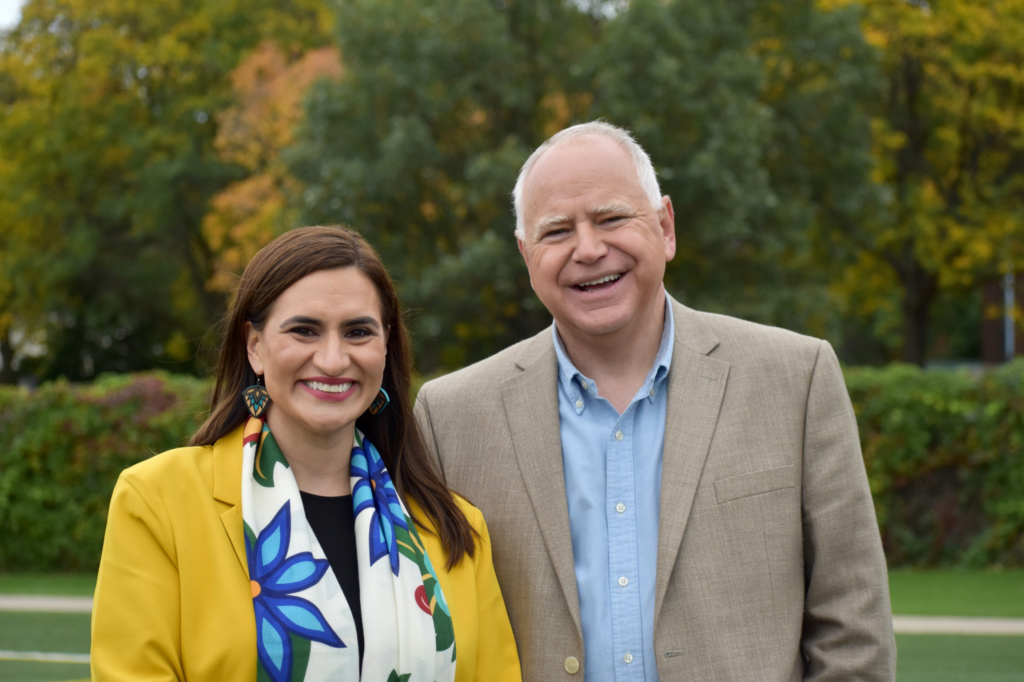 "Minnesota has exceptional public schools that are the backbone of this state. As a former public school teacher, I will always do everything in my power to protect our public education system from privatization."
For his unwavering support for students and their educators through his first term, Education Minnesota has endorsed the reelection of Gov. Tim Walz. 
"Governing through the pandemic required a playbook that wasn't written yet, but Gov. Walz led Minnesotans with integrity and confidence," said Denise Specht, president of Education Minnesota. "Every educator who has worked without a lesson plan for even a day can appreciate what the governor achieved during the past two years." 
Education Minnesota members are at the forefront of our endorsement process again in 2022. Each gubernatorial candidate seeking our endorsement had to visit with educators inside a public school, have face-to-face conversations with educators about issues facing working families, and answer survey questions submitted by classroom educators.  
Accomplishments
In his first four years in office, Gov. Walz and Lt. Gov. Peggy Flanagan:  
Increased education spending by $1.2 billion over four years, including the largest per-pupil increase in 15 years. 

 

Directed $29 million in one-time funding to support the general operations of schools and cushion temporary enrollment losses during the pandemic.

 

Preserved thousands of seats in the state's pre-kindergarten program.

 

Targeted spending to reduce the racial opportunity gap, including programs to recruit and retain more teachers of color.

 

Invested in full-service community schools, layers of student support services, mentoring for new teachers, expanding non-exclusionary systems of discipline, and providing training in trauma-informed teaching for teachers and paraprofessionals. 

 
Under Tim and Peggy's leadership, Minnesota is ranked as the best state in the country for women and for kids during the pandemic.
Walz's education priorities:
The Walz administration is committed to ensuring every child in Minnesota gets a good start in life, can attend a world-class school, and that everyone – no matter their zip code – has the opportunity to succeed.
His education priorities include:
Fully and equitably fund our schools.
Support and listen to educators.
Close opportunity gaps.
Support universal pre-K.
Prioritize education funding.
Recruit/ retain more teachers of color.
Block school vouchers.
Provide two years of free college at state colleges and universities.
One of us
Gov. Walz taught high school geography and coached football for 20 years in the Mankato public schools, as did his wife Gwen. His two children are in public schools. When he retires, his family will depend on a state pension just like tens of thousands of other Minnesota families.
Like many educators today, Tim was in the classroom during the Pawlenty administration. He remembers the devastating budget cuts, the layoffs, the rollbacks of support services and the rising class sizes. He hasn't let those happen again and will continue to be on our side.
Gov. Tim Walz is one of us and he needs our support in the general election Nov. 8.
Gubernatorial candidate questionnaires
No other gubernatorial candidates submitted an Education Minnesota questionnaire.